Wireless LAN & DECT Dangers
EMR Issues -
Wireless LAN & DECT Dangers
Invisible demons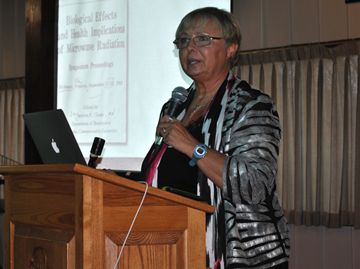 Magda Havas
Jason Spencer photo
Magda Havas, associate professor of environmental and resource studies at Trent University, speaks to concerned parents about the potential adverse health effects from exposure to Wi-Fi in schools at the Port Credit Legion on Thursday, May 9.
Steve Miller doesn't want his son to be afraid anymore.
But the demons he's trying to chase away, many simply don't believe in. Miller is speaking out to municipalities and school boards, asking people to believe, so that his six-year-old son, Jalen, doesn't have to go to bed scared anymore.
His fight is the same one being taken up by the American Academy of Environmental Medicine which  recently sent a letter to the Peel District School Board asking them to reconsider wired connections for Internet in Peel schools as an alternative to Wi-Fi.
Miller is one of the parents who believes he has seen the effects the Academy is concerned about.
"He was five at the time, he was suffering from seeing the 'big things'," Miller said of his son. "He had a hard time describing it. We figured out that they were distortions, hallucinations he was seeing all the time, and they just got progressively worse – especially at night. For almost a year he would take his face and drive his face and eyes into his pillow to try and make them go away."
Jalen has been diagnosed with hypersensitivity to electro-magnetic fields by an environmental doctor, who told his parents the cause of his difficulties could be their cell phones. Their Internet. Their cordless phone. Their Bluetooth.
But it was a roller coaster trip to the diagnosis.
"We took him to the family doctor, and he was on a nebulizer for asthma, so the doctor thought maybe it was that. We got into the spring of 2011, and the asthma was only around in winter so the medication stopped, but the 'big things' continued."
It was an eye doctor next.
"The eye doctor said whatever he's seeing, his eyes have nothing to do with it."
Miller said the mystery continued.
In the fall of 2011, it got so bad Jalen began not only complaining about his visions, but was clearly disoriented and dizzy. He said he felt the car (not even turned on) was moving, and his mother was talking too fast.
Rushed to the emergency room for an MRI, which revealed nothing, Jalen went to Sick Kids in downtown Toronto. After multiple visits, doctors had no answers.
"I started doing my own research, I didn't know what to do," said Miller. "I went on the Internet and pumped in his symptoms, and I started reading about EMF (Electric and Magnetic Fields), how it can effect children. I saw a testimonial from a kid that sounded exactly like Jalen, and then I found a company called EMF solutions."
The company tested his home for EMF. They found Jalen's room was a hot spot for Wi-Fi, and the family immediately disconnected all wireless technology.
Four days later…
"New Jalen," Miller said happily. "Completely new kid. I couldn't wait to tell his doctor at Sick Kids, but as soon as I did, he looked at me like I had two heads. Said, sure, you may have found something there. I was like, are you kidding me, we have a new Jalen?"
Almost one year later, Jalen's symptoms have returned, and now, Miller is part of a group of parents and doctors asking the Peel District School Board to reconsider the installation of wireless Internet into their schools.
Miller thinks the demons came back when Jalen's school installed Wi-Fi.
The American Academy of Environmental Medicine (AAEM) sent a letter to Tony Pontes, director of education for the Peel District School Board, indicating that research was beginning to trumpet the hazards of having children in close contact with wireless radiation for long periods of time. It said that the World Health Organization (WHO) had recently classified exposure to wireless radiation, including Wi-Fi, onto the Class 2b list of carcinogens.
"There is consistent emerging science that shows people, especially children who are more vulnerable due to developing brains and thinner skulls, are affected by the increasing exposure to wireless radiation," the letter reads. "In September 2010, the Journal of the American Society for Reproductive Medicine Fertility and Sterility, reported that only four hours of exposure to a standard laptop using Wi-Fi caused DNA damage to human sperm. In December 2012 the American Academy of Pediatrics, representing 60,000 pediatricians, wrote to Congress requesting it update the safety levels of microwave radiation exposure especially for children and pregnant women."
In 2010, the letter also noted Canada's Parliamentary Standing Committee on Health heard three days of testimony from international scientists explaining why the national safety guideline (Safety Code 6) is out of date for the increasing exposure to wireless radiation in daily life.
Dr. Jennifer Armstrong, past president of the AAEM, said what Miller is experiencing is status quo for parents and children suffering symptoms due to Wi-Fi signals. Citing the original messages of asbestos and tobacco, she said this is an issue for the 21st century that is seeing more heads buried in more sand.
"We're thinking of a precautionary approach," said Armstrong. "We don't know all the effects this is going to have on children. They're developing and growing, they're more vulnerable, their skulls are thinner, this is microwave radiation."
Armstrong said the very reason society was told not to stand in front of their microwave is what people should be cautious about today.
"Like smoking in the past, the industry and government have left the burden of proof on us to prove it is harmful. Society should be demanding government and industry, if they're going to produce something new, they have to prove it's safe," she said.
Armstrong expressed frustration at the message that much of Canada's Wi-Fi radiation is well below levels outlined in Safety Code 6 stating that even if the signal strength were 50 times less than that outline in Safety Code 6, "it is still worse than the standards in many other countries. That's what you're dealing with."
The acceptance of radiation being an environmental cause for many symptoms isn't there yet, she said.
"Even some of my colleagues think it's hogwash, it's just happening too fast. But we're seeing children vomiting, having headaches, we have adults with hormonal issues, unexplained thyroid problems. But we're not taught to look at the environment in medical school."
For the Region of Peel, Safety Code 6 is just fine for now.
Pontes said the Peel District School Board was more than comfortable in their decision to put Wi-Fi in Peel schools.
"The differences in beliefs may be based on the fact that individual research may be found that suggests a concern, however, given all of the research, understanding those health agencies have reviewed the wealth of information and have reviewed the volume of information that confirms there is no evidence. We are comfortable."
He said the board will continue to monitor the research and attitudes toward wireless Internet.
"Those health agencies we rely on have confirmed they will continue to review research as its forth coming, if at anytime we get anything from them outside of current position, of course, we would follow their recommendation," he said. "I did not spend 35 years in education to harm children. We believe we did our due diligence; we are committing to continue to take their advice if anything changes, and we will also be looking at some randomized monitoring methods.
With regards to Safety Code 6, Peel Medical Officer of Health, Dr. David Mowat replied in an e-mail saying, "The Safety Code applies a fifty-fold safety margin for the general public to the level of exposure that has been related to health effects in previous studies.  A safety margin is the difference between the exposure levels showing an effect and the limit level. In this case, the Safety Code 6 exposure limit is fifty-times less than the exposure level showing a thermal effect."
When Industry Canada requirements are met, "Wi-Fi in schools is not harmful to the health of students and staff," Mowat continued, adding Peel health monitors new information, and is always available to provide the public with accurate information.
He also noted, "Health Canada has requested the Royal Society of Canada (RSC) to conduct a review of Safety Code 6. The RSC has assembled this expert panel and their review is expected to be completed in fall of 2013."
Peel District School Board trustee Stan Cameron, who represents Caledon schools, stands behind his board on the issue of Wi-Fi in schools.
"The answer is the Peel public health department, Health Canada and the World Health Organization don't have any concerns in their research, so that is the direction the board is following," he said.
EMR Issues -
Wireless LAN & DECT Dangers
http://www.electricsense.com/4608/how-to-stop-wifi-from-being-introduced-into-your-kids-school/
Post also reprinted below, along with some excellent comments
Both of our kids are still at school.
They're lucky.
I'm not talking about the quality of the teaching or the awesome sports facilities or even the long holidays….
I'm talking about WiFi.
Both their schools are on a hired wired Internet connection.
I know because I checked this out last time I was up there for the parent/teachers meetings.
I know some of you are not so lucky.
One of my readers, Jenna (name changed), is not so lucky.
Her kid's school just introduced WiFi. It's difficult trying to convince the "skeptics". But Jenna seems to be doing a better job than most.
What Jenna Did
She wrote a terrific letter outlining the case why WiFi should not be introduced into her child's school. Jenna very kindly offered that I share her letter with you so that anyone finding themselves in the same situation could use it.
Here is the letter Jenna sent to her school headmaster:
John Doe, Head of School
Members of Safety Committee
I recently learned that your School uses wifi to connect to the Internet. I am very concerned about this, in view of the evidence that wifi is dangerous to the health and safety of children. (More about this below.)
Of course, I realize that it is not your intention to harm children.  Wifi is a relatively new technology that has caught on like wildfire — it's in airports, libraries, restaurants, bars, hotels, and even in many homes. Surely our government would not allow this if wifi were not completely safe.
Would they?
Think again. For many years the wireless industry and our government assured us that cell phones were completely safe. Today, few people believe this given the increased incidence of brain tumors associated with the heavy use of cell phones.
As a result, the World Health Organization was forced to admit (in 2011) that cell phones — which, like wifi routers, emit microwave radiation — may cause cancer (Cell Phones & Cancer: WHO).   Shortly afterward, Italy's Supreme Court ruled that cell phones do cause cancer (Italian Supr Ct ruling-1), opening the floodgates for a barrage of legal suits worldwide.
Not enough time has gone by yet to implicate wifi routers as a specific cause of cancer, but they too generate microwave radiation, just like cell phones and cell phone towers.
At a private school in Plainfield Vermont, which had a wifi installation, measurements taken inside the school were found to be comparable to measurements taken in the immediate vicinity of a cell phone tower. Measurements of children leaning over their laptops were 3X higher than the radiation that someone would be exposed to standing right next to a cell phone tower!
Certainly no one would permit a cell phone tower in a schoolyard, yet due to a lack of awareness, the school was allowing 3X the equivalent of a tower's radiation inside their building. (To watch the video, please click on the link below.)
http://www.electricsense.com/2726/wifi-in-schools-gives-off-3-times-as-much-radiation-as-cell-towers/
What will be the long-term consequences of this exposure?  As noted in the above video, today's children are the first generation to be exposed to constant, long-term microwave radiation.
An authoritative video on the biological effects of wifi by a Canadian researcher, Dr. Magda Havas, is also well worth watching:
http://www.youtube.com/watch?v=6v75sKAUFdc
Other informative videos are listed below:
http://www.youtube.com/watch?v=YrVNdbT7hb4 (Wi-Fi Dangers, BBC Part I)
http://www.youtube.com/watch?v=ewdikNQhjUo (Wi-Fi Dangers, BBC Part II)
http://www.youtube.com/watch?v=LiO7ofDGoD8 (British newscast covering wifi)
http://www.youtube.com/watch?v=KN7VetsCR2I (Canadian newscast covering wifi)
(By googling "danger of wifi to children," you can find many other resources.)
Bottom line, a growing body of scientific research indicates that the microwave radiation emitted from wireless devices creates adverse biological effects.  These include –
·      permanent DNA damage
·      increased risk of cancer
·      damage to the reproductive system
·      heart and circulatory problems
·      weakening of the blood-brain barrier
·      changes to melatonin levels
·      insomnia
·      thyroid disruption
·      neurological and behavioral problems
·      decreased cognitive function
Some of these studies are listed at scientific-research under "EMF Research." (You'll have to scroll down to see the list.)
Given that there is a safe alternative for connecting to the Internet, is there any good reason to have wifi at your school?
Respectfully,
Thank you Jenna.
Comments below current as of 2012 12 23.
Louise said,

Please would you tell me how I can write this to a Spanish school. All the you-tubes and references are in English.
I think it is a wonderful letter and agree with you 2000% Well done!

Lloyd said,

Hi Louise
Unfortunately you can't change the language on the videos but some videos may have had a Spanish version created – do a search on Youtube with the keywords in Spanish. To convert the letter into Spanish you can use Google translate, see http://translate.google.com/

Mary Adkins said,

I wish it were that easy, to simply write a letter. Two years ago I wrote a very similar one to my school district. I mistakenly thought that any rational, responsible adult–upon hearing the evidence of risk about WiFi–would never continue using it. But I got nowhere with the school department Superintendent. So I went to the School Committee, then the state Dept. of Education, then the state Dept. of Health. All turned a blind eye. In fact, my school district added EVEN MORE WiFi to all their schools after I notified them of the dangers. And now–in what I consider to be a horrifying course of action–they are planning to put an access point INSIDE EVERY SINGLE CLASSROOM at the high school. I've heard reports of children and teachers getting sick at all the area schools, including this high school (symptoms like headaches, anxiety, ADHD, nausea, dizziness, weakness, fatigue, respiratory problems, etc.) A beloved teacher (my neighbor) first became sick when she started working at the high school and now she has died of liver cancer (hmmmmm…..the free radical damage from radiation must be processed through the liver….coincidence?). She was a beautiful, 35 year old mother of three. Before she died, this teacher told me she personally knew six teachers at the high school who were on anxiety medication (see Magda Havas' study about 2.45 GHz–same frequency as WiFi–causing heart arrhythmia). Are these children and teachers getting sick from the radiation emitted by the wireless access points? Did this teacher develop cancer because of the WiFi? You decide. I've made my own decision–I refuse to send my child to this school.

Lloyd said,

I published this letter so that others may use it but I am not suggesting its easy…I know it's not easy. But that does not mean you shouldn't try. There are lots of cases where people have been successful in having WiFi removed from schools….

Joel Garson said,

Hi Lloyd: Very interesting and well informed aspects that wifi's have in schools. The videos were enough to bring about a change in the the wifi's dangers. I found more then enough evidence for this. Again, thanks for your research and posting of these reactive and dangerous agents in our schools and wherever wifi's are installed. Joel S Garson

Jean said,

Just a suggestion, why not print out all the info on WiFi radiation and blitz the school parking lot (under windshield wipers) and hand out to all the kids and mothers/fathers picking up kids, etc. I would think you should be able to get enough support from other parents to get the job done, I hope!

Debbie Hepplewhite said,

Hi Lloyd,

I've only recently been more aware of this issue since my husband and I have become increasingly aware of various 'effects' we feel in our home – so we are conducting our at-home investigations.

Please can you give me a quick update on the situation in the UK. I'm very concerned about this issue as I find it so very insidious and highly worrying – and I don't trust people in the industry one jot! I work in the teaching profession and I'm horrified to think of wifi in all our schools.

Kind regards

Lloyd said,

Hi Debbie
Things are locked down in the UK by a body called the HPA (Health Protection Agency) which unfortunately only considers the heating effects of low level EMFs…WiFi does not create a heating effect…they consider it as safe.

Paul Von said,

To all readers,
I've researched this issue time and again, since 1979, and for many years warned people of the dangers of radio, television, and radar frequency broadcast. Look up Tetra frequencies, VHF and citizen band broadcast technology, cell tower radiation effects on plant health, wi-fi and DECT phone systems, and how these technologies destroy human cellular biology and directly cause multiple cancers.

I've read over 100,000 pages of data over a period of 30 years, and the result is a conclusive link between blood leukemia, multiple cancers, heart arhythms, learning, cognitive, and behavioral disorders such as ADHD, degenerative neuron disorders such as Multiple Sclerosis, Alzheimer's disease, ALS, and exacerbations of epilepsies and diabetes.

Your children's lives are directly at stake, and I'm tired of hearing this incessant stupidity regarding the EMF radiation issue. EMF is a lethal POISON to biological systems. I repeat: EMF is a lethal POISON to biological systems. Your cowardice and complacency on this matter is ULTIMATLY TERMINAL.

It is just plain foolish to rely on your incompetent and arrogant government agencies to reduce or eliminate this WORLD WIDE health disaster. ALL communications companies need to be directly attacked with serious physical force, their equipment utterly destroyed, and this technology permanently banned from use.

These companies are destroying your future, and your governments are LYING. Your governments have been lying for over 60 years, and your schools and administrative agencies are in collusion with the communications companies. They either need a major shake up, or all personnel should be completely eliminated.

Get off your duffs, and destroy the companies who manufacture this technology. High frequency broadcast technology has effectively reduced your collective behaviors to abject retardation. I'm not exaggerating one bit. You people have no idea how much your intelligence and behaviors have shifted these last 50 years, because you no longer have a reliable control group. EMF proliferation is a behaviorally addictive and fatally dangerous substance. Get rid of it.
EMR Issues -
Wireless LAN & DECT Dangers
A 1984 study entitled "Long-term, low level microwave irradiation of rats" found that pulsed 2.4 GHz radiation (exactly that found in wi-fi) caused, to rats exposed, a
16% increase benign tumours
100% metastatic tumours
260% increase in primary tumours
This is what we are exposing our children to whenever we implement wi-fi in schools.
Of course, this is completely insane, unless you are actually wanting to make children sick...
EMR Issues -
Wireless LAN & DECT Dangers
Study shows, unequivocally, that microwave radiation from a cordless digital phone base station operating at 2.4 gigahertz immediately affects the heart causing arrhythmia and tachycardia (irregular and rapid heart rate) at non-thermal levels well below federal guidelines.
EMR Issues -
Wireless LAN & DECT Dangers
U.K. expert warns against Wi-Fi
August 26, 2010
San Grewal source
SAN GREWAL/TORONTO STAR
The debate surrounding potentially dangerous Wi-Fi networks in schools has been put to rest by the Ontario education ministry, which feels that if Health Canada endorses the technology as safe, end of story.
But Barrie Trower, a British physicist who carried out research for the Royal Navy and military intelligence into the effects of microwave radiation, has come out of retirement to exhort bodies such as Health Canada to heed his life's work.
The Star caught up with Trower after his Tuesday lecture at the University of Toronto on the dangers of Wi-Fi technology and other common household sources of microwave radiation.
In the face of its recent declaration that Wi-Fi networks are safe in schools, what would you tell Health Canada?
"That's wrong. If we know there are no levels safe for children and children are everywhere, how can they be safe? I have never met a single person that has read the ICNIRP (International Commission for Non-Ionizing Radiation Protection) guideline. It says, 'Children, the elderly and some chronically ill people, might have a lower tolerance for one or more forms of microwave exposure.' Your government uses a safety threshold of 'not (greater than) 1,000 microwatts per cm2.' In 2007 a group of scientists came up with a safety level, the BioInitiative Report. Their level is 'not 0.1 microwatts per cm2.' "
Other than those with "electrosensitivity" why are children so susceptible to illness from Wi-Fi?
"Children are physiologically and neurologically immature. It takes years for the blood-brain barrier to form, leaving children more prone to cell-leakage from microwave radiation. And a person's immune system, which fights off damage, takes 18 years to develop. In all of the schools I have visited around the world with Wi-Fi, every one has reported the same symptoms in students: fatigue, headaches, nausea, chest pain, vision problems.
You have been invited to advise numerous countries about these dangers, but almost all have ignored the warnings. Why?
"The governments have buried this for 40 years. They have known about these dangers since the research was coming in decades ago. Now, what do they say? They've painted themselves into a corner. I think they're hoping the whole thing will go away. They're afraid of lawsuits if they admit this is dangerous. And despite all the research that shows microwave radiation is dangerous, no one in the telecom industry has ever admitted it. No one."
EMR Issues -
Wireless LAN & DECT Dangers
Introduction by Dr. Magda Havas, BSc, PhD
This is the documentary on WiFi in schools that was on Global TV 16 by 9, The Bigger Picture on Sunday October 17, 2010. It is an excellent overview of the topic. Parents and teachers need to do something about this since children are exposed to high levels of microwave radiation: the potential hazard and health ramifications are highly disconcerting.


Teachers need to speak out especially if they are sensitive and reacting to this radiation.  Parents and grandparents also need to speak out if their children are reacting adversely with headaches, dizziness, heart irregularities, etc.


The good news is that we can still access internet in schools by using wires rather than wireless technology without being exposed to microwave radiation.
WiFi in schools proven to be dangerous

(14:32 min)
WiFi causes heart problems, headaches and other neurological disorders in children.
Canadian Documentary exposes the truth.

You can't see it but it's everywhere. WiFi connects computers to the internet, no cords required. Now kids are using it in wireless classrooms across the country. But is it an invisible danger? Carolyn Jarvis investigates why some parents say WiFi in schools is making our kids sick.

Dr Havas demonstrates that a Wi-Fi router can cause cardiac arrhythmia and tachycardia in some people. Dr Carpenter, MD, says "You don't want to wait until you can count the bodies before you tell the public that there is a serious potential of harm. And with regard to the issue of Wi-Fi in schools, this is exactly where we are". Hérouville St. Clair in France leads the way by removing Wi-Fi in schools and putting in state of the art fibre optic networks.